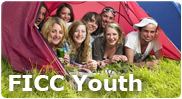 The International FICC Youth Rally is held every Easter, beginning on Thursday evening and finishing on Monday morning. The FICC Youth Rallies are intended to enable campers aged between 14 and 30 years old from all countries of the world to get together and meet new friends.
The rallies take place in a different country each year. The country nominated to organise the Rally is appointed by the FICC Youth Commission. The organising country is free to choose the necessary measures to make the FICC Youth Rally a complete success.
The main objective of an FICC Youth Rally is to further friendship among young campers from all around the world and the camping event normally has a program of cultural and sporting activities to meet this objective; the highlights of any rally being the opening ceremony and of course, the evening discos.
Finally……
We live in a new world now where technology has a very strong influence in the way we interact with each other. Unfortunately, this has changed our attitude towards camping and all the great things associated with camping. I propose that we use this technology to spread the word about the FICC and get more young people camping again. Remember; bring a friend!
If you have any questions or would like additional information regarding forthcoming FICC Youth Rallies please don't hesitate to contact me.
I look forward to meeting you at the next FICC Youth Rally,
Ryan Martin
President FICC Youth Commission
Commission Members
Ryan Martin
Great Britain - Chairman
Yoëlle van Driel
The Netherlands – Vice President